Nothronychus



Name:

'Slothful Claw'

Age:

Late Cretaceous

Length:

5 Metres

Weight:

880kg

Range:

North America
Nothronychus are related to some dinosaurs with ferocious reputations, like the carnivorous
Tyrannosaurus
and
Allosaurus
. However these weren't meat-eaters at all, they had evolved to eat normal plants. These enigmatic and bizarre-looking theropod dinosaurs had a pot-belly, long arms and agile hands with impressive 30cm long claws. They could have been used to pull down branches to reach the leaves or strip bark from trees.
The wicked looking claws may also have defended Nothronychus from predators or fend off rivals. Nothronychus was the first member of the Therizinosaur family to be found in the
Americas
. Most of the others, such as Therizinosaurus, have been found in China and Mongolia.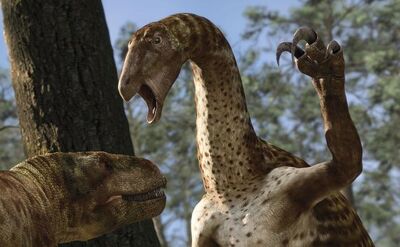 Ad blocker interference detected!
Wikia is a free-to-use site that makes money from advertising. We have a modified experience for viewers using ad blockers

Wikia is not accessible if you've made further modifications. Remove the custom ad blocker rule(s) and the page will load as expected.