Planet Dinosaur Files is a spin-off series aired on
CBBC
, this series will have sections and points. Each episode will have a different section. Such as deadly, and power. It was first brodcast on the 29th of September, and is hosted by Jem Stansfield.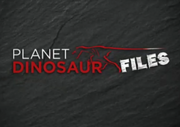 Planet Dinosaur Files has proven to be quite succesfull, as other popular shows on CBBC such as
The Sarah Jane Adventures
have linked their games to the website, of which could prove worthy for the series.
Ad blocker interference detected!
Wikia is a free-to-use site that makes money from advertising. We have a modified experience for viewers using ad blockers

Wikia is not accessible if you've made further modifications. Remove the custom ad blocker rule(s) and the page will load as expected.