Sarcosuchus



Name:

'Flesh Crocodile'

Age:

Late Cretaceous

Length:

12 Metres(39 feet)

Weight:

8t

Range:

Africa
Sarcosuchus was the biggest crocodilian of all time . .At 12 meters, even the mighty Spinosaurus will not dare to attack the crocodile when it's starving! It lived in Africa, and will hibernate in small lakes within droughts, so this Crocodlian would not dry out unless the whole lake does.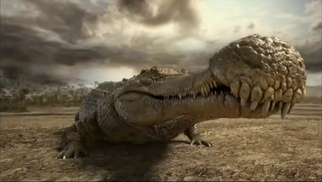 Planet Dinosaur
Sarcosuchus made a brief appearence in Lost World and scared of a Spinosaurus. In New Giants it made a bigger appearence and scared of a few smaller crocs then attacked a young paralatitin, nevertheless a large Charcharaodontosaurus appears and the two engage in a deadly tug of, Sarcosuchus loses the tug of war and retreated to the river.
Ad blocker interference detected!
Wikia is a free-to-use site that makes money from advertising. We have a modified experience for viewers using ad blockers

Wikia is not accessible if you've made further modifications. Remove the custom ad blocker rule(s) and the page will load as expected.